Nexxt Cafe of Miami Beach
700 Lincoln Rd.
Miami Beach, Fl 33139
305-532-6643
Open daily 8:00 a.m. to 12:30 a.m.
At Nexxt Cafe, a retro coffee shop ambience meets cool postmodern architecture in a sleek, savvy monument to people-watching and leisurely discourse. And the passersby here are not just any people -- we're talking models, media moguls and movie stars.
House Specialties:
Jambalaya Pasta
Chinese Salad
Popcorn Shrimp
Crab & Avocado Roll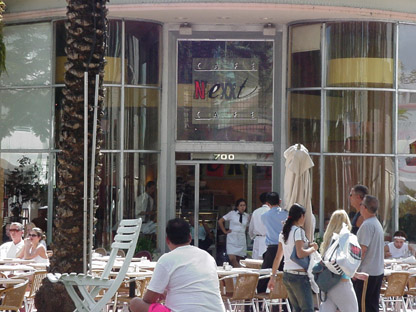 When it comes to food, Nexxt Cafe offers a vast array of reasonably-priced choices in a menu that reads like a magazine. Asian-influenced dishes co-mingle happily with hefty salads, fresh seafood and good old American favorites including scrumptious sandwiches. But no matter what you eat, save room for one of the delectable fresh French pastries Nexxt concocts daily.