Miami Beach Outdoor Activities
Skate Boarding / Rollerblading / Bicycling / Kayak Trips Rentals
Snorkeling & SCUBA Diving / Parasailing / Windsurfing / Deep Sea Fishing
Very important that you wear sunglasses on the beach or eye strain will result!
Click underlined text or photos of you favorite activity to hear and see more specific information.
South Miami Beach, Ocean Drive and the Art Deco District offer a wide array of fun outdoor activities. You don't have to bring your own equipment as top notch outfitters can provide you with state of the art gear suited to your favorite activity!
Boucher Brothers Water Sports Management
The Boucher Brothers are Miami Beaches' premier pool beach and water sports management com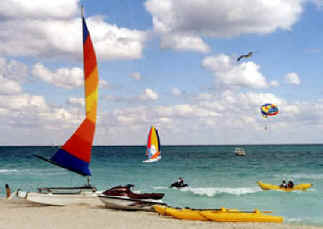 pany. You will find them at all fine hotels in South Florida. For over a decade the Bouchers have been providing vacation water sports adventure for our guests. Be it waverunner rides or tours of Miami Beach, Downtown Miami and the Coconut Grove on watercraft, parasailing, kayaking, or banana boat rides, you are in good hands with these experts. Clicking the image will open their most comprehensive site in a new window.
Get Wet With Us!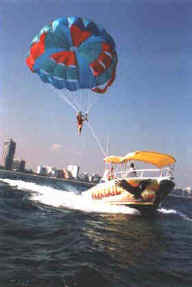 Parasail Miami Beach
Come Fly With Us!
The best way to get high in Miami Beach.
Captain Chuck Doorway's nearly 2 decades
of experience ensures smooth sailing (pun intended)!
you choose your height and they take care of the rest.
Amazing views of everything. No visit is complete without a
parasailing ride with Parasail Miami Beach.
Click the picture for more. (opens in new window)
Deep Sea Fishing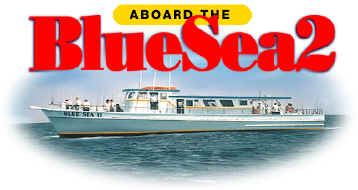 Catch the big one!
Enjoy a day or evening fishing trip on the boat that catches you fish! Over 30 years of fishing in the Miami area. Captain Judd, Captain Avery , and Captain Debbie know these waters and know how to get you fish. Half and full day and night trips. Clicking the image will open a new window and the home site of the Blue Sea II